Replacement Windows
There are many reasons to consider upgrading your windows: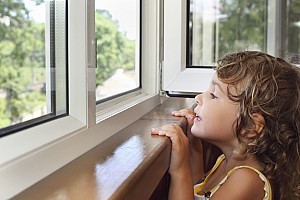 If you currently have Wood Windows:
Wood windows were used by builders as recently as the 1980's. In addition to the painting and increased maintenance required by wood windows, installing new windows can improve operation, make cleaning easier, offer increased energy efficiency, and improve comfort in your home.
If you currently have Vinyl Windows:
There have been many advancements in window technology over the past 20 years - better glass, better weatherstripping, and high quality frames produce a more efficient window than was available in years past.
Problems such as mold, condensation inside, or difficult operation indicate it may be time to replace your windows.
When the time comes to replace your windows, you also have the opportunity to improve the appearance of your home - the wide range of exterior colours and interior finishes, optional grilles, or even installing a bay window can enhance the architectural details of your home. Functional upgrades, such as triple glazed windows or the type of gas used, offer maximum energy efficiency in your new windows. And, with Kielstra Siding & Windows, you are assured of professional installation and outstanding value.
"Henry - Thanks very much for the work you and your crew did at my house. The quality of work was and your crew was very polite and pleasant to have on-site!"
Jeff
North Star Windows
Kielstra Siding & Windows is proud to install North Star (www.NorthStarWindows.com) windows.
North Star Windows are locally produced, and offer customers the quality and reliability they expect and deserve. North Star manufactures an easy product to stand behind, because they also stand behind their product with a limited lifetime warranty.
Contact us for more information, or use the form below to request a quote.
Request an Estimate
Simply fill out the form below and we will contact you as soon as possible to arrange for an estimate, or answer any questions you may have.